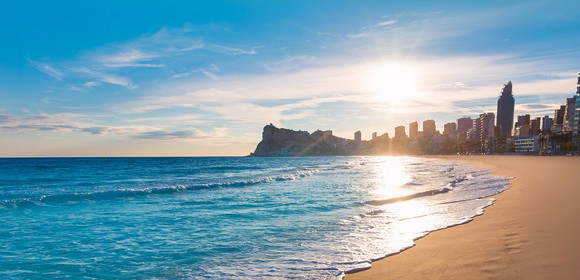 In the far South-East of the peninsual you will find one of the most beautiful destinations in all of Euorpe. With more than 200 kilometers of sand and crystal clear waters; Alicante and other areas of the Costa Blanca offer a diverse range of beaches, cliffs and forests visited by around 2 million tourists each year. Dania, Javea and Calpe are but a few unforgetable destinations.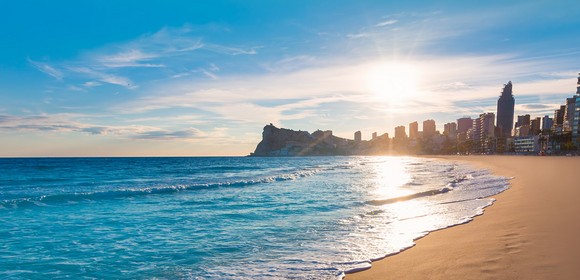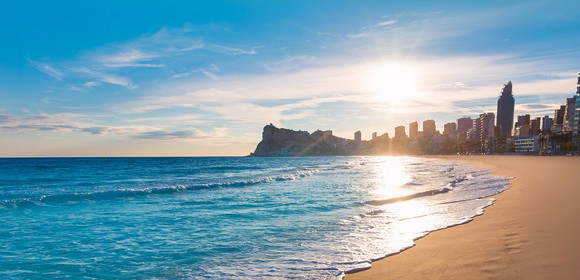 There is lots to see, lots to do and lots to enjoy whilst in the Costa Blanca. It's no surprise that tourism has flourished on these Mediterranean shores, an abundance of activities are available all designed for fun; hiking, bicyle routes as well as numerous water based activities.
Playa Carabassí de Elche
The Carabassí beach, only a few kilometers from Santa Pola, is an oasis of golden sand and a massive attraction for swimmers. Discover its beauty, whether it's snorkeling, diving, or other beach activities. During festival nights, discos and bars attract a multitude of light hearted young people looking for fun.
Cala del Moraig in Benitatxel

Spanning 500 meters in length, and 80 meters width, the Cala del Moraig is a quaint corner of the rocky substratum; and with the prestigious blue flag life guards, it is a good option for those who wish to rest and relax in peace.
San Juan de Alicante Beach

Seven kilometers from the Valencian municipality sits San Juan Beach, an area full of bars and restaurants perfect for families wishing to try local cuisine. It's shores and warm climates guarantee long walks into the late afternoon.
Reina Sofia Park

Dense forests, ponds and families of ducks and turkeys inhabit the landscape of Reina Sofia, a place which lets you experience both flower and fauna in all its glory. Without a doubt, a place which will leave youwith unforgettable memories.
Downhill Bike Ride

Downhill Bike Ride, one of the most popular routes amongst cyclists, is a spectacular 35 kilometer decent down the Sierra de Aitana which is an exhilerating experience for the whole family.
Peñón de Ifach

This rocky mass scaling more than 300 meters in height captivates it´s visitors because of its monumentality. Keen rockclimbers will also experience heaps of fun, scaling the Peñón Ifach de Alicante.
Rancho La Ofra

Excursions, horse riding classes, and horse trekking amongst other activities are the main attraction at Rancho La Ofra – a must visit for any enthusiast or horse lover, making it a perfect place to start learning to ride, jump, or simply just to improve one's skill.
La Granadella de Jávea Beach

In the Jávea municipality, the Granadella beach not only provides lovely scenery, it also provides a wide variety of services including: showers, feet-washers etc. as well as on duty life guards at all times. Diving enthusiasts will be able to enjoy its ample variety of both plant and animal inhabitants at the depths of its seas.
Serra Gelada Natural Park

The Serra Gelada Natural Park is one of the most beautiful in Spain extending through the municipalities of Benidorm, Alfaz del Pi and Altea. 300 metre high cliffs, breathtaking forests, are all hidden gems within these mountains.
Playa de la Fossa

Spanning almost a thousand metres in length, the Playa de la Fossa beach is known as one of the most popular in the Costa Blanca, as well as being considered one of the most beautiful. Whichever month of the year you visit, is perfect to enjoy its nautical route or vist the enchanting Salinas de Calpe.
Cliffs, mountain routes, beaches and other spectacular sites, can all be found in and around Alicante so beautiful. If you still haven´t been to visit these wonders … What are you waiting for?