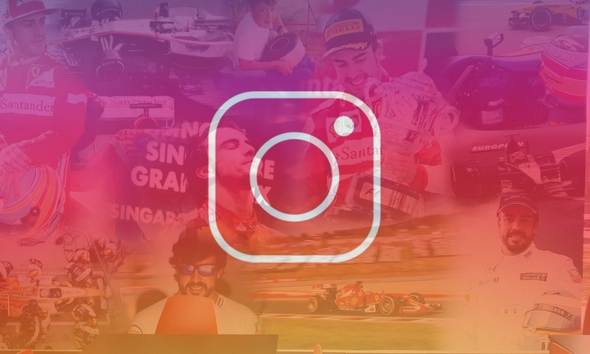 'I do not need to win races to be happy' – It's safe to say that Fernando Alonso is unique in many ways; Despite his long career in Formula 1, fortune has never smiled upon him when choosing a team: Minardi, Renault, McLaren, Ferrari etc. However, the Spanish rider has stood out for his comments on social networks to the delight of his 1.7 million followers – Would you like to discover Fernando Alonso's most entertaining moments on Instagram?
His warrior philosophy of life, his bad relationship with Honda, his upmost sincerity and the love he professes towards Linda Morselli all give shape to the best moments Fernando Alonso has had on Instagram; Come with us as we discover them in the following paragraphs!
Why Does Fernando Alonso Stand Out On Instagram?
Athletes such as Rafael Nadal, Lewis Hamilton and Kobe Bryant all use Instagram in their day to day lives, a platform which has steadily become a way to strength relationships between celebrities and their fans. The double F1 world champion has recently jumped to this social network, accumulating at the same time various publications that have instantly shot him to fame for his witty, emotional and funny quotes – You cannot afford to miss out!
'It's Thanks To Motorsports We Have These Moments'
'This moment … leading the 500 miles of Indianapolis for two thirds of the race – It's thanks to motorsports we have these moments'. This publication by Alonso surprised many of his fans after finishing the 500 miles of the Indianapolis, one of the most important sporting events of his career; This as well as many other curious facts of Alonso with IndyCar have already been considered unforgettable, such as this Instagram post here.
'School Starts Tomorrow'
During one of his Instagram Live reunions with his fans, one of the users criticized the Spaniard for the bad performance of his car, "Maybe next time try to go at least three laps without entering the pitstop", to which Alonso answered, "Thanks for following me, thanks for being here on Instagram, watching me live, now; However, it's late and school starts early tomorrow." – Fernando Alonso's comebacks will never cease to amaze us!
'Work For A Cause'
Unlike other international athletes, Fernando Alonso has a take on life that captivates both fans and followers alike – "Work for a cause, not for applause; Live your life to express, not to impress", – quoting a post from his Instagram.
'It's Time To Rest' (Next to Trump and Obama)
Can you recall the photo of Fernando Alonso sitting in an armchair on the lawn of the Brazilian Grand Prix? As you are probably aware, this photo made the rounds on the internet, motivating all kinds of photoshop edits; In fact, Alonso himself published one of these edits – A photo in which we can see President Donald Trump next to Obama, with Fernando Alonso sitting in his chair to the left with the caption, 'The season is over, it's time to rest and come back stronger in 2017.'
'I'm Fed Up With Honda'
Although the partnership between Honda and McLaren promised many victories, it has only lead to countless disappointments; After three seasons together, the disappointment of the Spanish driver was more than evident, "I'm fed up with Honda.", Alonso posted on his profile.
His First Kiss With Linda Morselli
From disappointment we change to the love that Fernando Alonso found in model Linda Morselli; Their union was obvious, and even though his fans were more interested in his sporting achievements, it was nice to see Alonso was happy with her. Despite his poor results in the Formula 1, the Spanish driver was more than happy posting his first public kiss to Lind on Instagram – Alonso's happiness in turn translates to his fans happiness.
When we take into account the aforementioned, it's safe to say that Fernando Alonso has a very entertaining Instagram account; If you are an F1 fan, you cannot afford to miss out on following who most people consider the best driver in the world!