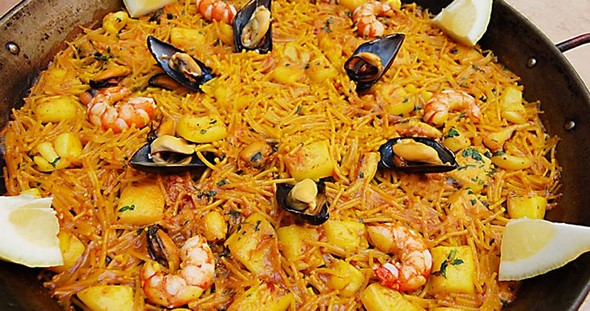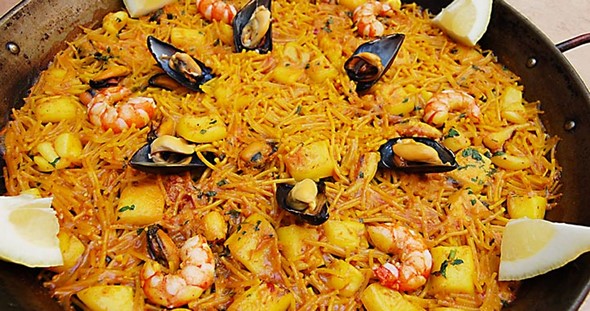 Mediterranean cuisine remains one of the most highly valued and anywhere within Spanish territory can be savoured at its very best. Valencia is also home to a gastronomic route where flavours and culinary delights are complemented by the beauty and richness of the surrounding environments – A perfect combination which amazes thousands of tourists every year.
Arròs al forn located in Xàtiva; One of the most famous rice dishes, abundant in black pudding, chickpeas and pork ribs, not to mention it's delicious rice, all form a dish which is sure to please.
Arròs al forn is famously made in the town Xàtiva, situated around 60 kilometres from Valencia, which in whose numerous establishments are sure to impress, such as its castle, the hermitage of San Felix, the church of Sant Pere and the Marqués de Montortal y de Alarcó.
Borreta de melva located in Benissa; The most traditional of flavours can be found in the dish known as Borreta, a stew unique of its genre containing all sorts of ingredients of the gastronomy it represents, such as the Melva fish, dried peppers, onions and olive oil as well as many other ingredients which are cooked in an old-fashioned iron cauldron.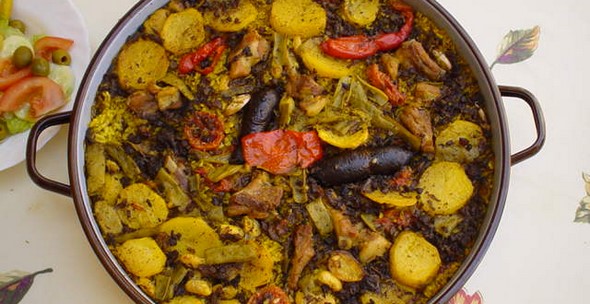 This delicacy can be found all around the Alicante province, though perhaps the best place to taste it first is Benissa – A city which is sure to please its visitors, who can explore the Centro Histórico Medieval, or the parish church of the Purissima Xiqueta; Xábia is also known for its quality Borreta dishes.
Fideuà located in Gandia and La Safor; Of all seafood snacks, the Fideuá holds a place of honour, and even though its origins are considered being a simple dish, over the passage of time, the dish has evolved and become somewhat more complex to prepare. Among its ingredients we can find Moralla fish, noodles, bay leaf, onions and grouper fish bones – It's delicious!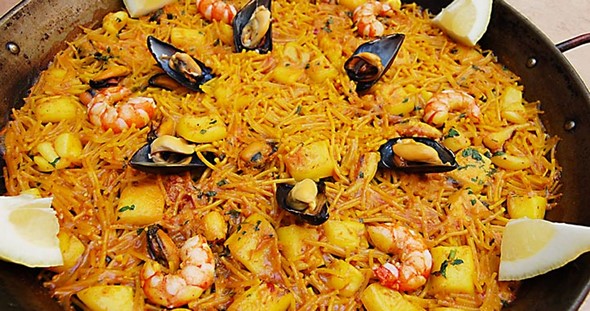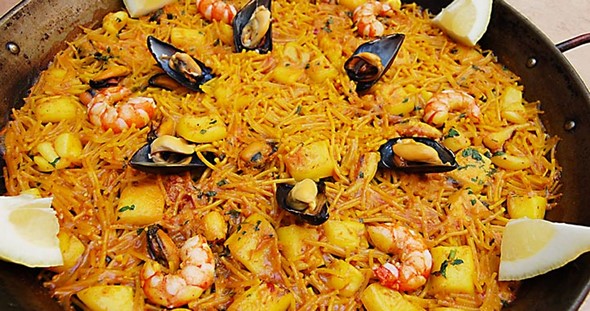 Both La Safor and Gandia owe in part their popularity due to the famous Fideuá dish, although only the latter can boast its origins; Alongside Gandia we can find countless cultural attractions, such as the church of Santa María, the Palacio Ducal, the Hospital de San Marcos and the Convento de las Clarisas.
Arroz Negro located in Grao de Castellón; Even the most pickiest of gourmets admit that they consider this black rice to be one of the best, without forgetting the Valencian paella. The secret to its success lies within the squid ink which gives it both its black colour and unique taste.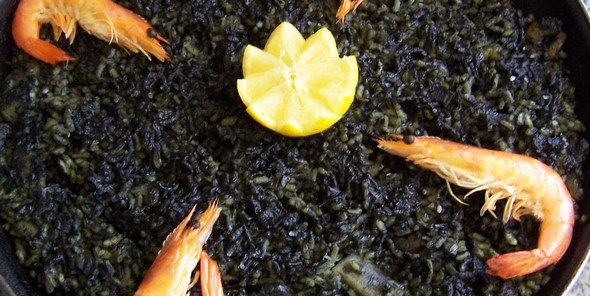 The arròs negre o arroz negro (Black rice), is a classic dish that can be found on any menu; Tarragona, Alicante and Castellon all helped with its creation, however many alike consider the best place to savour this dish is within Grao located within Castellón. The fishing port, its museums, art collections and planaterium are all perfect for fun seekers.
All i pebre de anguila located in Albufera; Finally we come across one of the most famous gastronomic delicacies within the province; A sauce made up of garlic and paprika served with eels reaching the highest levels of excellence.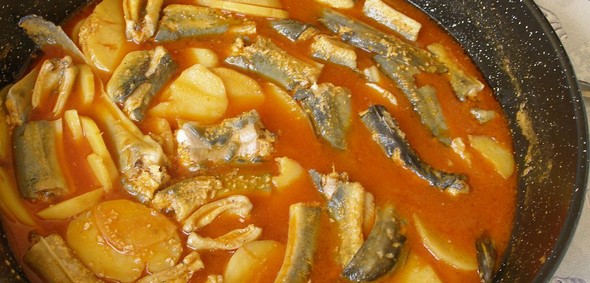 L'Albufera, besides being home to the All i pebre dish, is all known for its grand culinary masters who contribute to its preparation; Savouring this dish is also another excuse to explore the wonders of the L'Horta Sud. Visiting the Natural Park, The Ethnology Museum of El Palmar and boat tours that traverse its extraordinary environment are sure to prove an unforgettable experience.