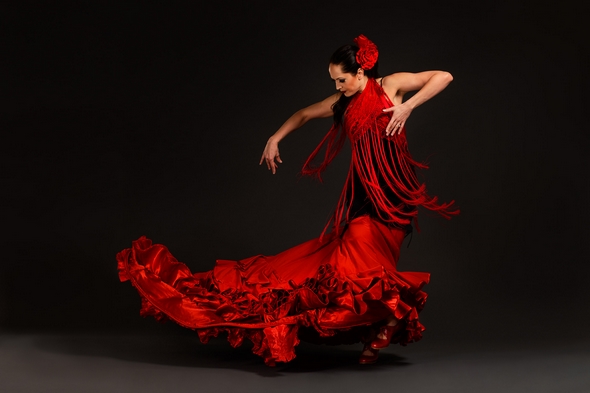 Do you dream of learning the art of Flamenco dancing? This enticing and beautiful dance, native of Andalucía, Spain, has increased in popularity in recent years, and can now be found in dancing schools all over the world, such as Paris, London, New York, Tokyo and Sao Paolo. But is there anything more enchanting then learning about this dance in it's native land? If you are determined on learning Flamenco dancing in Spain, then you cannot miss out on reading the following paragraphs – You will be pleasantly surprised!
Talking about Flamenco dancing is like talking about history itself – Great doses of passion and art, not the way teachers of the fine arts see it however, but as a special talent which somebody can be born with, although that's not to say it cannot be learned. Since its historical roots in the 18th century, many have surprised by the abilities of talented Flamenco dancers such as Sara Baras, Cristina Hoyos, Juaquín Cortés, Antonio Gades, María Juncal,etc. Would you like to become one of these stars?
3 Ways To Learn Flamenco Dancing in Spain
Spain is a country full of incredible contrasts, such as the Valencian Paella, the Madrid-Barcelona Classic, the Spanish language itself, and of course, Flamenco dancing; If you are seriously considering learning everything about this dance, and maybe even wish to become a professional, the following paragraphs are guaranteed to peak your interest.
Participate In A Flamenco Dance Course
If you are a self-taught dancer, you have most likely seen and read countless tutorials related to Flamenco dancing, however the best way to learn all of its secrets is to put yourself in the hands of a master of the art – Flamenco classes can now be found at really affordable prices on a worldwide scale. However the best environment for studying this art is in Spain, the birthplace of this dance, which is home to the very best professionals, allowing you to make unique friendships, whilst discovering a new society and culture, providing an unforgettable experience and a 'suitcase' of memories.
Going To Flamenco Dance Shows
Whilst Flamenco courses and schools provide you with the first steps for learning this wonderful folk dance, extra motivation and inspiration is needed to continue to perfect your skills, and just like sports, frequenting places where professionals can be seen and admired, stimulates one's creative juices – Such events for Flamenco dancing in Spain are known as 'tablaos', some of the best being 'Los Lunares' and 'La Guitarrería' in Alicante, 'la casa de La Memoria', 'Auditorio Álvarez Quintero' and 'Tablao El Arenal' in Seville, or 'La Quimera', 'Corral de la Morería' or 'Villa Rosa' in Madrid, amongst many others.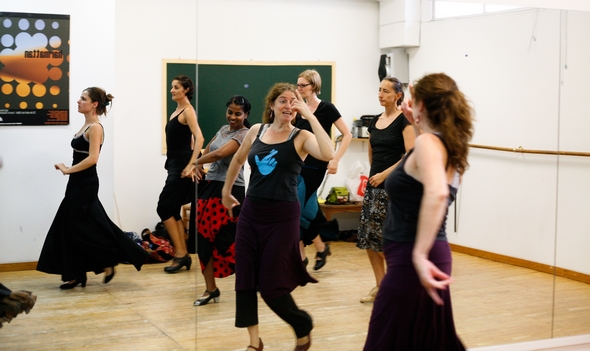 Reading The Best Books Related To The Art
If you cannot travel to Spain and immerse yourself in its culture, a perfect alternative is to read books related to the art such as, 'I Want To dance Flamenco' by Azucena Huidobro, 'Becoming the Dance: Flamenco Spirit' by Teodoro Morca, and 'Flamenco: Gypsy Dance and Music from Andalusia' by Claus Schreiner. As to be expected, in most libraries and bookstores, especially those in Spanish, you can find a rich and varied literature related to the art of Flamenco dancing.
When we look at the aforementioned, it's safe to say that there are countless ways to learn Flamenco dancing in Spain, so you cannot afford to hesitate about experiencing this adventure and becoming a first-class dancer; This experience will also help you better understand the culture, their passion and the way they feel and live, and precisely why this art attracts both natives and foreigners alike.